8 Great Pieces of Gear for Camping Off-Grid
Aug 8, 2022
Getting your Ember stocked and equipped for your next off-grid camping adventure is always a huge part of the fun–and having the right durable, dependable, and functional gear with you can make or break a trip. Here are eight great pieces of gear that you should consider keeping in your rig or in your tow vehicle at all times. From tools to help get you out of a jam to cooking gear that will help you make great meals in the great outdoors–this is the stuff that we love right now and have been testing ourselves. Every pick is a winner, and we hope that you add at least one of these items to your personal camping kit.
Badland Foldable Utility Shovel (Harbor Freight $11.99)
Even if you are only doing some light off-roading with your Ember, packing a shovel is probably a smart thing to do. The problem is, they can take up a lot of room. That's why we like the Badland Foldable Utility Shovel from Harbor Freight. This shovel measures in at 22.5 inches when extended and 9.5 inches when folded. It easily fits into the front gearbox on your Ember with plenty of room to spare. Those doing heavy off-roading may want a more robust product, but we think this will work just fine for most campers in most situations. The price is also hard to beat.
Nebo Slyde King 2K (nebo.acgbrands.com $59.99)
When you are camping off-grid in dark environments, having a bright and reliable flashlight is a must. The team at Ember loves the Nebo Slyde King 2K for a variety of reasons. With up to 2,000 lumens, the main light is super bright. But the hidden 500-lumen work light and the strong magnetic base are the features that make it perfect for road trips. Simply slide the flashlight apart to reveal this secondary light. If you break down on the side of the road or simply need to work under your RV at night, attach the Slyde King 2K's magnetic base to your rig's frame and turn on the secondary work light. It also has a flashing red hazard mode in case you get stuck on the side of the road.
Leatherman Signal (Leatherman.com $129.95)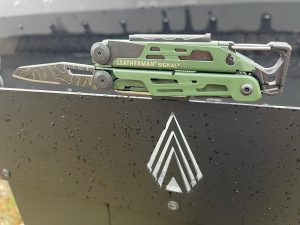 Having a great EDC multi-tool is useful no matter what you are doing, but they are even more important when you are camping off-grid. The Leatherman Signal was designed with camping in mind, so this is our favorite multi-tool from the legendary Portland-based company. It has all of the tools that you would expect to find on a Leatherman and a few more. We love the emergency whistle and the fire starter. The bottle opener is also nifty when you are relaxing around the campfire at night after a long day of hiking or paddling. RV owners may be able to bring all of these tools with them separately and store them in their rigs–but a multi-tool like this is still a godsend if you forget something essential and you are far away from civilization.
Thetford Porta Potti 365 and Carrying Bag (Amazon.com $167.94 and $20.48)
Ember Overland Micro Series ROK and ROL owners who want to add a portable toilet to their camping kit should look no further than Thetford's highly functional lineup of Porta Potties. The flushing mechanism is easy to use, and the sealed storage tanks fully contain any bad smells. We recommend the 365 because it sits higher than other models and also fits in Thetford's affordable carrying bag. Overall, this is a terrific purchase for any RV that does not have its own interior bathroom.
Camp Chef Sequoia Propane Fire Pit (campchef.com $114.99)
We like the sounds and smells of a traditional campfire just as much as anyone does. But they are not always safe to have, especially in the American west, where drought conditions are prevalent. Some places that will not allow a campfire may allow you to use a raised propane pit, like the Camp Chef Sequoia. Those propane-fueled fire pits are often allowable when fire ban restrictions are in place (always check with a Ranger or land manager before using them) because they are safer in a couple of key ways. They do not spark, and they can be completely turned off with the flick of a wrist. Another benefit is that they are completely smokeless. We also like that the Sequoia comes with its own carry bag and stores away in a relatively small package.
Omnia Stovetop Oven (buyomniaus.com $69.00)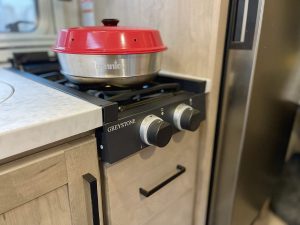 The Omnia Stovetop Oven is a perfect accessory for Ember Overland and Overland Micro owners whose rigs do not come equipped with an interior stove. This compact and affordable (and Swedish-made) camp cooking device gets placed on top of a burner and can bake anything that a traditional oven can bake–albeit in smaller quantities. You can use it inside your Ember on a rainy day or bring it outside and use it on top of a camp stove when you are dining al-fresco. Using the Omnia outside also keeps the heat out of your kitchen and keeps your entire rig cooler on hot summer days. Your kids will love being able to bake cakes and brownies no matter how far off the grid you are camping. The Omnia is also easy to clean without wasting much water. Another major perk if you are Overlanding.
Stanley Classic Perfect-Brew Pour Over Set (stanley1913.com $40.00)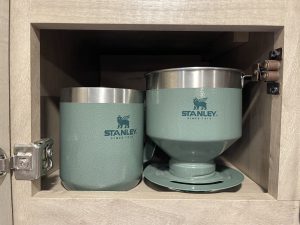 Using a drip coffee machine on an off-grid camping trip in your Ember can drain a lot of precious battery power. So why not heat up the water in a kettle and use the rugged Stanley Classic Perfect-Brew Pour Over Set? We think it makes an incredible cup of coffee, and it won't drain precious resources while it does. The stainless-steel filter and matching camp mug make an attractive set, and they are incredibly durable. You can also leave your paper filters at home and reduce waste. Nothing smells better than fresh coffee in your RV in the morning, and once you have that first cup, you will be ready for an action-packed day filled with adventure.
Nocs Provisions Standard Issue 8×25 Waterproof Binoculars (Amazon.com $95.00)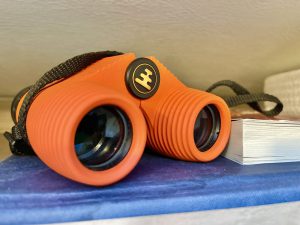 When you are camping off-grid with kids, you won't have traditional campground amenities like sports courts and playgrounds to keep them busy. So, it's smart to bring a few choice pieces of gear that will inspire them to explore the natural world around them. We love Nocs Provisions Waterproof Binoculars because they seem made for the junior rangers in our lives. The rubberized grip makes them extremely comfortable to hold, and the selection of colors is delightful. Every pair of Nocs also comes in a whimsical and super giftable box that will help spark the wanderlust of any child that opens them up. So, they would make a great birthday or holiday gift for the little off-grid adventurers in your life.