Ember Holiday Gift Ideas
Nov 9, 2022
The holiday season is almost upon us and it is time to pick out that perfect gift for the camper in your life. We think that the best gifts are those that inspire us to live our best lives in the great outdoors. So we made our selections with that guiding principle in mind. This year's gift guide includes a wide variety of options that range in price from $12.99 to $1,799. Here you will find ridiculously fun card games for kids and foldable Ebikes for adventurous adults. You will also find RV specific gear that will please the pickiest campers. Choosing the right gear to outfit your family's Ember is a huge part of the adventure. So we hope this gift guide helps you pick out something that will make your 2023 camping trips even more fun, more comfortable, more tasty, and even more memorable!
Stargazer 10.5-inch and 12-inch Cast Iron Skillets ($115 and $145)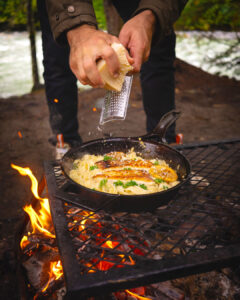 Do you love your Ember's Stargazer Skylight? Then why not get a Stargazer Cast Iron Skillet to go with it? These Pennsylvania made skillets are not cheap, but they are built to last for generations, and look good doing it. Their surface is smooth to the touch, their stay cool handles are elegant and stay cool longer, and you can order them pre-seasoned so they are non-stick right out of the box. If that special camper in your life values thoughtful design and likes all of their outdoor gear to be aesthetically appealing, then take a good look at Stargazer for a practical gift that also manages to be a work of art.
Kuju Pour Over Coffee: Angels Landing, Bold Awakening, Basecamp Blend ($29.95)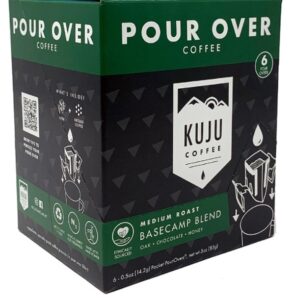 When you are boondocking, using a coffee pot with an electric heating element is a sure fire way to drain a lot of juice from your Ember's house batteries. Since coffee is essential to life, why not boil water on a burner and make yourself a flavorful and aromatic pour over instead? Kuju Coffee was founded by two Eagle Scouts and we love their single serve "pocket" pour overs. They taste great and only take up a tiny bit of space in your camp kitchen. Their size makes them great for our ROK and ROL owners, while their wide variety of blends makes them perfect for just about anyone that loves coffee as much as we do.
Ember Circular Rib Beanie by North Face®  ($18.00)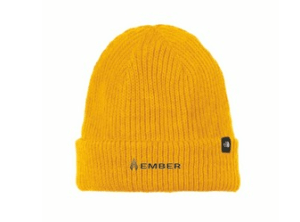 The Ember merch shop is open for the holidays and it is packed with cool items like shirts and mugs that would make great gifts or stocking stuffers. The most popular item in the shop among our team members is probably the Ember Circular Rib Beanie by North Face®.  This beanie is warm and cozy and perfect for cold weather campouts in your Ember. Several color options are available, and while the black beanie is the most popular around HQ, we think the yellow beanie will make quite the fashion statement around the campfire.
 Andersen Camper Leveler (Single $39.95, Double $89.99)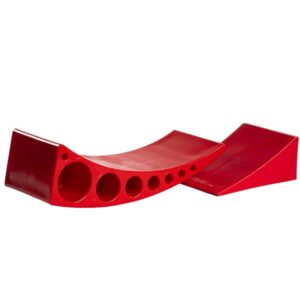 Andersen Camper Levelers are widely loved by experienced RV owners that know how difficult it can be to level their rigs on crooked sites without them. They are easy and intuitive to use and they are built to last for decades. They can lift your trailer up to four inches and can be used on rigs that weigh up to 30,000 pounds. So they are good to go for any rig in the Ember lineup. Just remember to order a single set for rigs with two tires and a double set for rigs with four tires. Andersen Camper Levelers are made in the USA and have a lifetime warranty. What's not to love?
Camco Evoflex Drinking Water Hose ($20.00 to $55.00)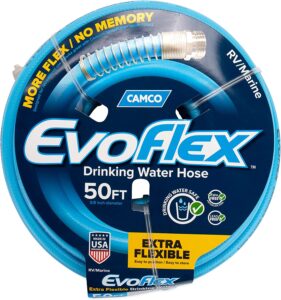 How many RV owners that you know actually love their drinking water hoses? Probably not many. Most RV drinking water hoses are difficult to roll up, and they get rock hard on cold mornings. Camco's Evoflex drinking water hose may be the only lovable drinking water hose on the market today. It is super flexible and easy to roll up and it comes in a variety of sizes (from 25ft to 75ft), and colors. We recommend the 50 footer because it handles most campground situations and is still easily stored in your Ember's front gear box.
Spot It! Camping Card Game ($12.99)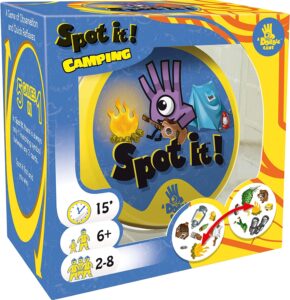 Spot It! Camping is the perfect card game to keep in your Ember for rainy days at the campground–and it may just be a perfect stocking stuffer for young campers. It comes in a very compact storage tin, and it can be played for hours at a time with your entire family. The cards are filled with iconic camping symbols (think campfires, lanterns, and s'mores) and players must use their observational skills to find matching symbols among the cards. This game is fast paced and easy to play, and kids are often better at it than adults. We recommend keeping this camping-themed version of Spot It! in your Ember all camping season long. For less than 13 bucks, you might also want to grab Spot It! Classic for home.
Aventon Sinch Step-Through Foldable Ebike ($1,799.00)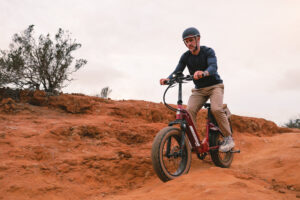 Foldable ebikes have become incredibly popular among RV owners of all ages. If you want to explore the area around your campsite without having to bring your tow vehicle along for the ride, then a foldable ebike might be for you. The Aventon Sinch Step-Through Foldable Ebike is a popular and widely praised option in this category. It is beautifully designed, comfortable to ride, and easy to fold up and store in your RV, or in the back of your truck. The Sinch fits a wide variety of rider sizes and has an average range of 40 miles–and its four inch fat tires make it workable for some light off-roading. The "Bonfire Red" and "Moss Green" color options are both attractive and have an outdoorsy look that will compliment your camping setup.
Barebones Railroad Lantern ($94.90)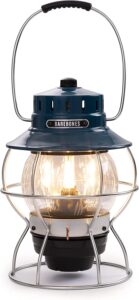 The Barebones Railroad Lantern is a facsimile of the classic Union Pacific Railroad lantern from decades ago. This modern version is USB-C rechargeable and has metal construction throughout its design. It comes in a variety of cool colors such as Antique Bronze, Ocean Blue, Olive Drab, Slate Grey, and Vintage White–so we are certain you will find one that is a perfect fit for your camping kit. At 200 lumens it is not terribly bright, so use it for mood lighting around your campsite after the sun sinks below the horizon.
Breeo Y Series Portable Smokeless Fire Pit ($495.00)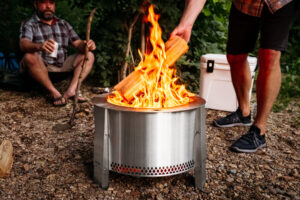 Some campgrounds and boondocking spots do not allow ground fires, but will allow fires in a raised fire pit like the Breeo Y Series Portable Smokeless Fire Pit. Because of this, and because many campers love smokeless campfires, portable fire pits have become incredibly popular among RV owners. Breeo's Y Series has adjustable legs that can be set at two different heights, one for campfires, and one for cooking. This firepit weighs only 31 pounds, is made in America, and has a nifty carry handle that makes it easy to transport and store. Breeo's Outpost Grill system is also compatible with the Y series, making it a perfect gift for campers that love to cook over an open fire.
When camping on public land always check with local field offices for guidance about campfires. Rules and regulations can change from week to week based on local conditions.
Where Should We Camp Next? A 50 State Guide to Amazing Campgrounds and Other Unique Outdoor Accommodations by Stephanie and Jeremy Puglisi ($9.89)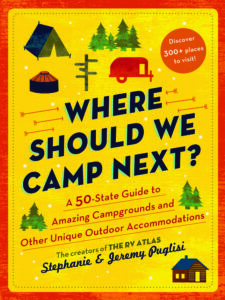 Where Should We Camp Next? Is filled with over 300 campground recommendations from all 50 states. From rustic state parks, to high-end RV resorts, this book has something for every type of camper. Each chapter also highlights regional cuisine, must-see attractions, and unforgettable activities. Whether you're planning an affordable family camping vacation or a romantic couple's getaway, this book is your gateway to making memories with the people you love the most. Co-written by Ember's Brand Ambassador Jeremy Puglisi, Where Should We Camp Next? is a must have for RV owners who are constantly on the hunt for their next favorite campground.