Ember's Holiday Gift Guide
Ember's First Annual Holiday Gift Guide for Campers: 12 Great Gifts Under $100
Nov 24, 2021
The holiday gift-giving season is fast approaching and it's time to make sure you find the perfect gifts for the campers on your shopping list! Ember's first annual holiday gift guide includes a wide variety of options that all check in for less than $100. We have gadgets for gear nuts and cozy blankets for those that love to spend time around the campfire on starry nights. We also have a selection of gifts from our team members that love to camp and cook up delicious meals and tasty treats in the great outdoors. You might also find a little something to add to your own collection of camping gear. Don't worry, we won't tell anyone if you do…
Gifts Under $50.00
Camp Cocktails: Easy, Fun, and Delicious Drinks for the Great Outdoors by Emily Vikre ($19.89)
Do you have a camping buddy or family member that loves to mix their own drinks in the great outdoors? Then Emily Vikre's wonderful Camp Cocktails book will make a perfect stocking stuffer for them. The book starts with an informative chapter on "camp cocktail basics" that includes sections on transporting spirits, cocktail techniques, and recommendations on purchasing camp-friendly barware. But the photos and instructions for mixing the drinks are the star of the show here. From the Grilled Orange Cobbler, to the Campsite Mojito, to the Salted Hazelnut Hot Chocolate, this book surprises and delights its reader on every single page. 
GCI Outdoor Comfort Pro Camp Chairs ($34.95)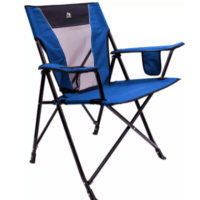 Finding a cozy camp chair for long nights around the campfire is an absolute must for every Ember owner. We like GCI Outdoor's Comfort Pro Chairs because they are comfortable for a wide variety of campers. They are also lightweight, sturdy, and easy to pack up and store. They also come in several different colors so you can match your camp chairs to your outdoor décor. These are the camp chairs that we use at Ember Trails, our own little campground right outside of our corporate headquarters—and the entire team loves them! 
Nomadix National Park Towels ($39.95)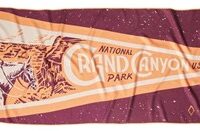 We also love the classic pennant-style design of the "National Parks Collection" of towels by Nomadix because they are stylish and functional. Each towel is made from post-consumer recycled materials and is soft and durable. They are also perfect for RV travel because they are lightweight, and they pack down small. More importantly, they are quick drying. Most RV owners bring a limited number of towels on their camping trips, so they don't eat up precious cargo space. Quick-dry towels are perfect for camping for this reason. Hang them up to dry and they will be ready to go next time they are needed. Nomadix also donates a portion of each sale to land conservation funds. What's not to love? 
Nebo Galileo Air 1000 Collapsible Lantern ($49.99)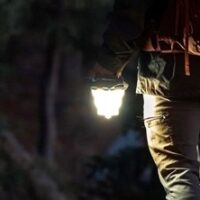 This 1,000-lumen lantern has six light modes and makes a great gift for kids that love to camp. The Galileo 1000's brightest setting is perfect for playing at the campground after dark, and its dimmest setting could also work as a nightlight at bedtime. This multi-use lantern also has a retractable handle on the bottom. This feature allows it to be used right side up on a picnic table at dinner time or be flipped upside down so it becomes a powerful handheld light that will illuminate the ground around you during nighttime hikes. Kids will also love that it works as a USB power bank so they can charge their devices while they sleep. 
Gifts from $50.00 to $100.00
 Camp Casual Road Trip Throw ($54.19)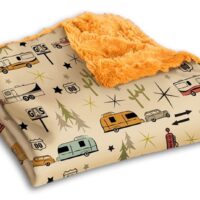 The Camp Casual Road Trip Throw may just be the softest and comfiest blanket in the whole world. We love using the throw on those chilly nights spent under the stars and around the campfire. It also works perfectly when you are snuggling up with a good book or magazine inside your Ember Overland or Overland Micro. Just don't bring your outdoor blanket inside the RV to read before bed, unless you want the inside of your RV to smell like a campfire! For this reason, you may want to buy two of these blankets. One for inside the rig, and one to keep with your campfire gear in an outside storage bin. 
BaseCamp Travel Press: ($60.00-$70.00)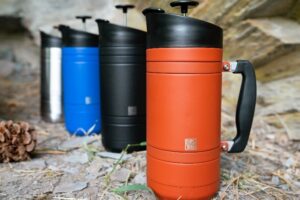 There are many ways to make great coffee in the great outdoors, but if you love using a French Press, or want to try one, we highly recommend the BaseCamp Travel Press by Planetary Design. This rugged and durable press comes in 32 and 48 oz options in a variety of colors—and it makes an incredible cup of coffee. We also love that it is spill proof and shatter proof (unlike a glass French Press) so you can make coffee in your Ember and then bring it along to the trailhead or lake. Its double insulated walls keep coffee hot for hours, and its Bru Stop technology will keep it from getting bitter. 
Truma LevelCheck ($79.99)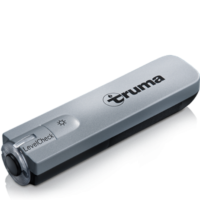 The Truma LevelCheck is a nifty little device that allows you to check your propane levels without having to remove the tanks from Ember's lockable front gear box and shake them around. It also eliminates the guesswork by letting you know exactly how much propane you have left. Simply press the LevelCheck against the tank: if the LED turns green and beeps, there is propane at that level. If the LED turns red the tank is empty at that level. If you are camping off-road or off-grid, you do want to make sure that you have enough propane for your trip because a place to refill your tanks may not be nearby. The LevelCheck will help you make sure you are always ready for your next adventure. The unit also comes with a built-in flashlight for added convenience. 
Harvest Hosts Membership ($99.00)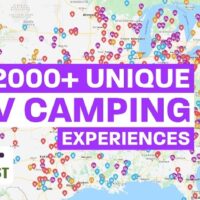 Each RV in the Ember Overland and Overland Micro Series is built for camping without hookups. Traditional RV parks and campgrounds are convenient but not needed to have a comfortable camping trip in one of our units. A Harvest Hosts membership creates a whole new world of options for those that are willing to leave traditional campgrounds behind—at least for a night. Paying for an annual membership gives you access to camping options at farms, churches, wineries, breweries, distilleries, museums, and even golf courses. Members are asked to purchase a product at each location when they stay overnight.  
Holiday Gift Picks from the Ember Team
 Original Rolla Roaster (2 Pack $22.30) Picked by Angela Cox, Bill of Materials Writer for Ember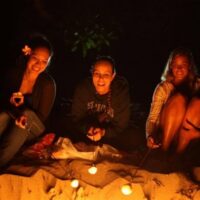 Angela recommends the Original Rolla Roaster stainless steel camping fork because it is retractable and easy to pack. She also likes the Rolla Roaster because, when it comes to roasting marshmallows over a campfire, "they get the job done!" They come in sets of 2 in a wide variety of colors and they extend from 12 to 42 inches. Each Rolla Roaster also comes with a heat resistant wooden handle with turning knob, so you can rotate your marshmallow over the fire and cook it evenly for a perfect and legendary S'more! 
Lodge 10.25 Inch Cast Iron Skillet ($17.90) Picked by Austin Borg, Lead Design/Product Engineer for Ember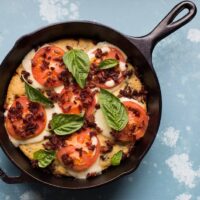 Austin loves cooking with cast iron over an open fire and never camps without his 10-inch Lodge Skillet. He recommends cooking with cast iron because it is "durable and gives your food great flavor." Lodge skillets are also affordable and come in a wide variety of sizes so you can pick one based on the size of your camping crew. Austin's favorite meal to cook in his skillet is breakfast and he loves making pancakes on every camping trip. 
Grill Armor Gloves ($29.95) Picked by Spencer Brown, Design Engineer for Ember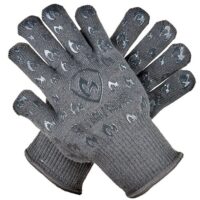 Austin is not the only team member at Ember that loves to cook in the great outdoors! Spencer is also a big cast iron fan and recommends using Grill Armor Gloves when cooking over a live fire so that you don't burn your hands on a hot skillet handle. Spencer recommends using Grill Armor Gloves instead of welding styled cooking gloves because those are too big and bulky. He also likes that the Grill Armor Gloves are machine washable. Spencer's absolute favorite thing to cook in the great outdoors is deep dish pizza in his Dutch oven. Sounds amazing, right? 
Subpar Parks: America's Most Extraordinary National Parks And Their Least Impressed Visitors by Amber Share ($19.49) Picked by Jeremy Puglisi, Brand Ambassador and Owner Advocate for Ember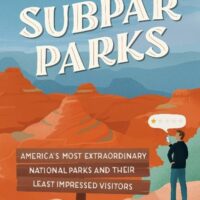 Jeremy recommends this smash hit book by Amber Share (based on the viral Subpar Parks Instagram account) because it makes him "laugh out loud" every time he picks it up. It's hard to imagine someone leaving a one-star review of a national park—but apparently lots of people are not very impressed with "America's best idea." This book takes snippets of those one-star reviews and pairs them with charming illustrations of the parks. The results are hilarious and brilliant. Every. Single. Time. 
Thank you so much for checking out Ember's first annual holiday gift guide for campers. We hope you found something great for every camper on your list—and maybe a little something for yourself too. 
Happy holidays from the entire team at Ember!